An Order Tracking app built for Shopify sellers

Automated global package tracking that allows you to focus on core business;

Delightful after-sales experience,leading to more positive reviews and growth;
Automated global package tracking
Turning shipping-related customer complaints into repeat purchases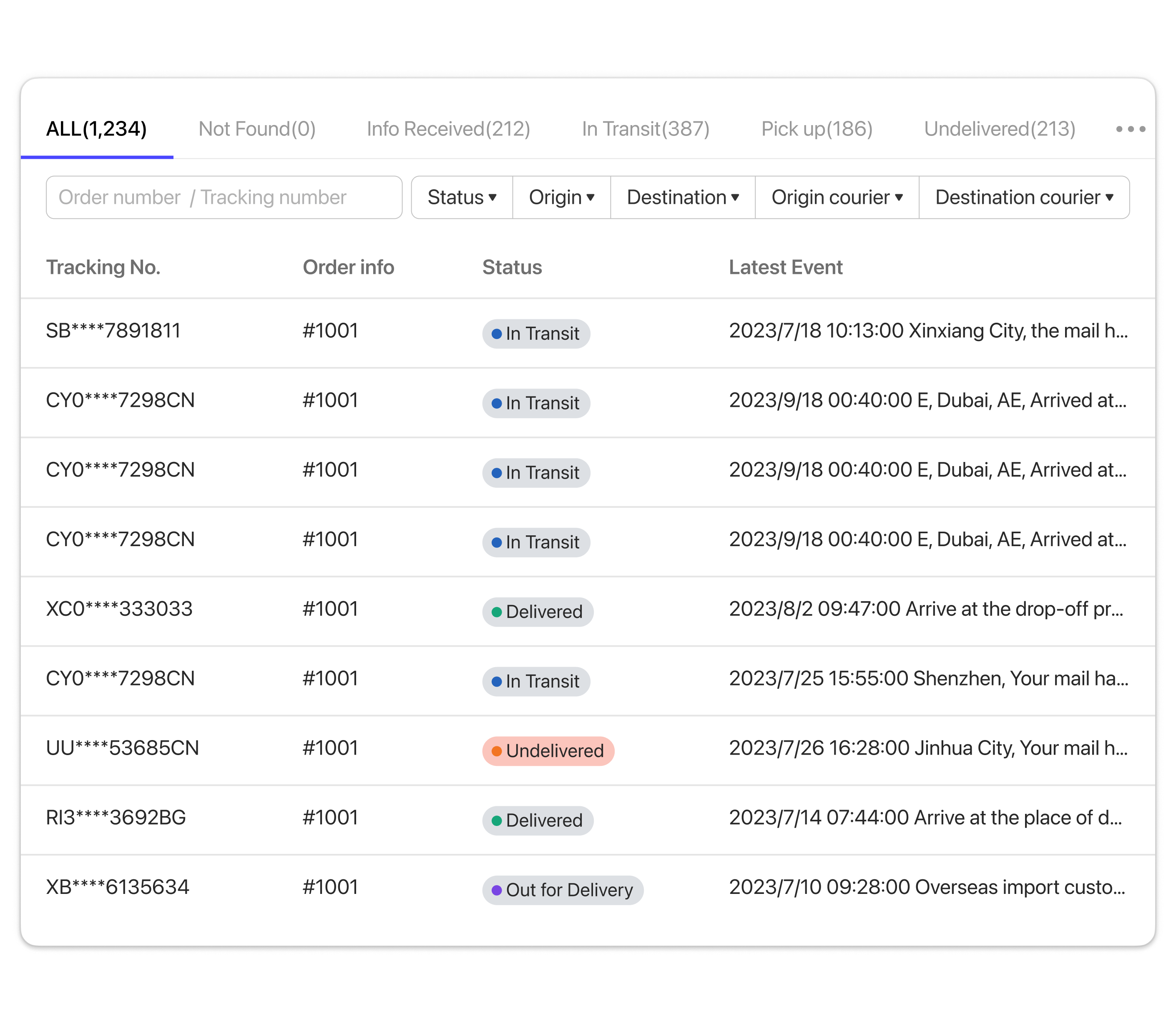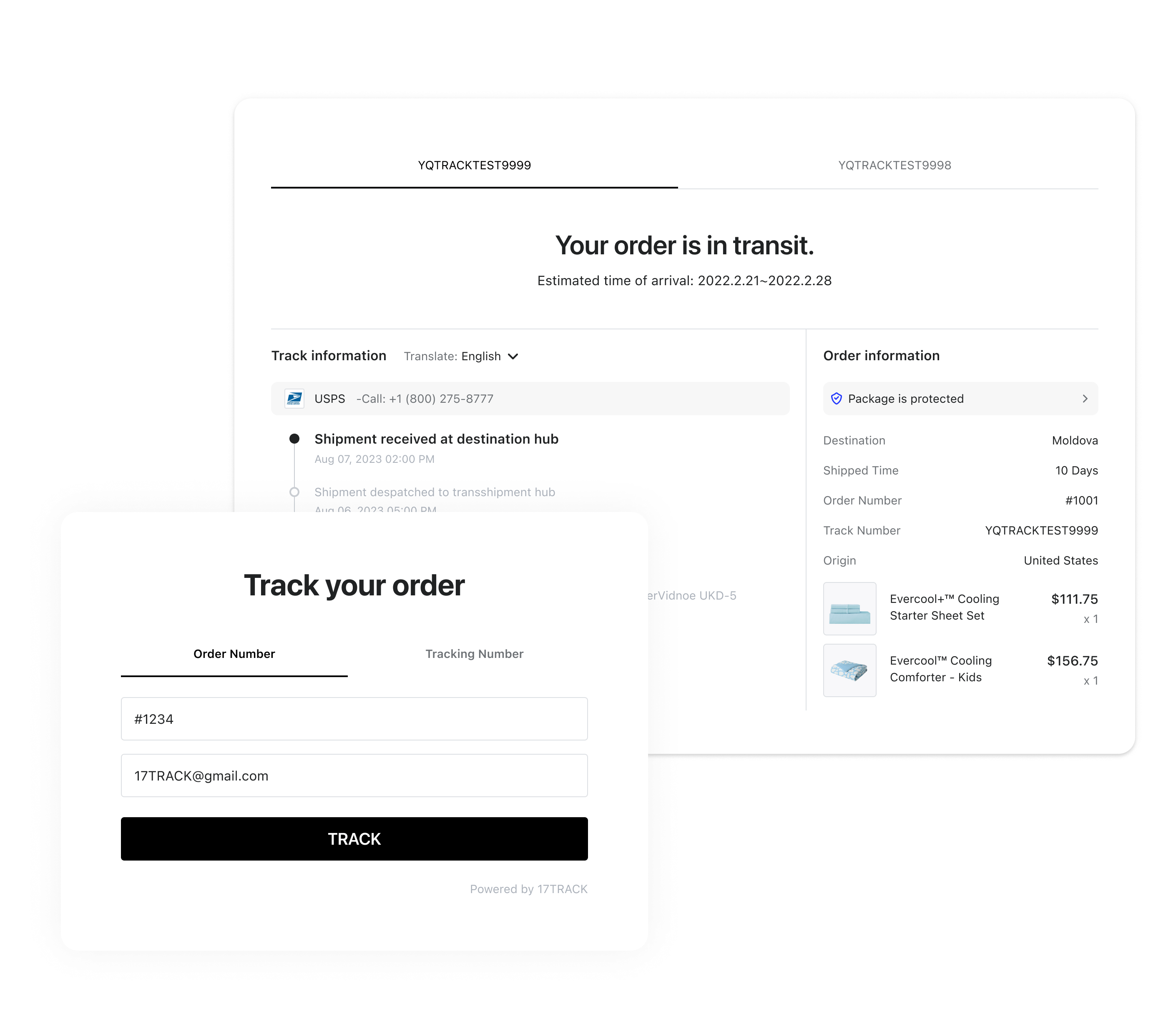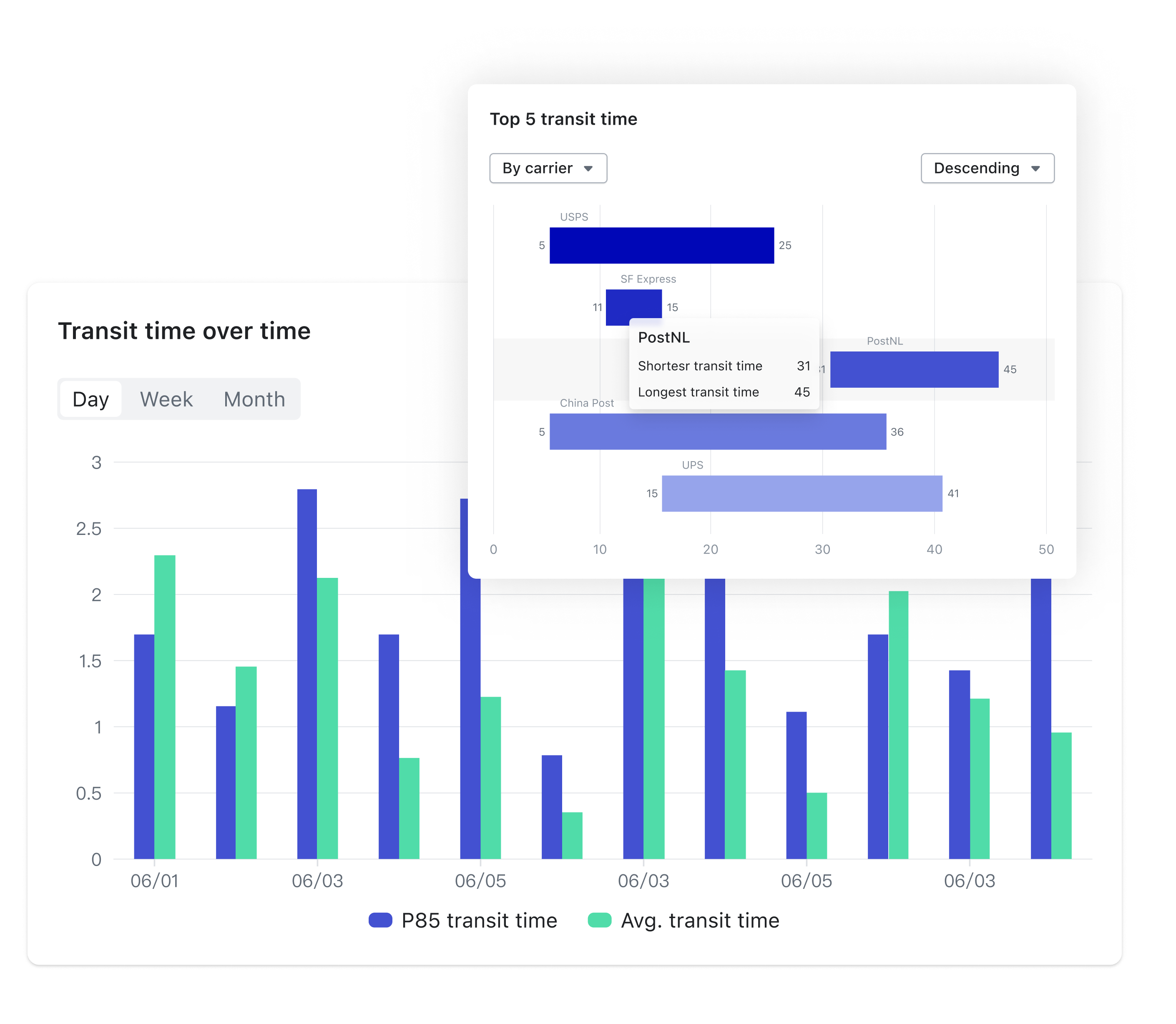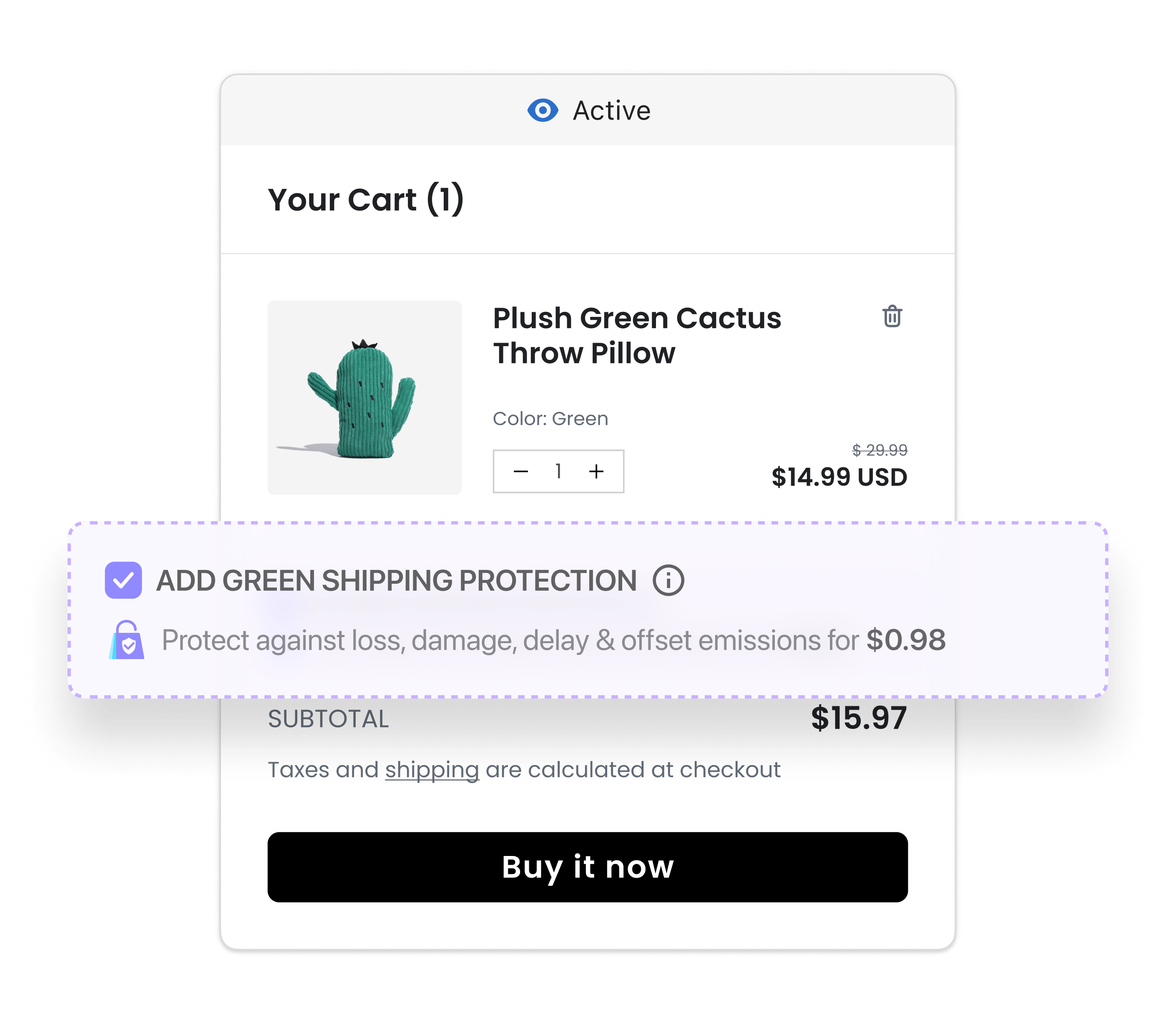 Shipment Management
Get insightful tracking data for all your shipments in one single panel.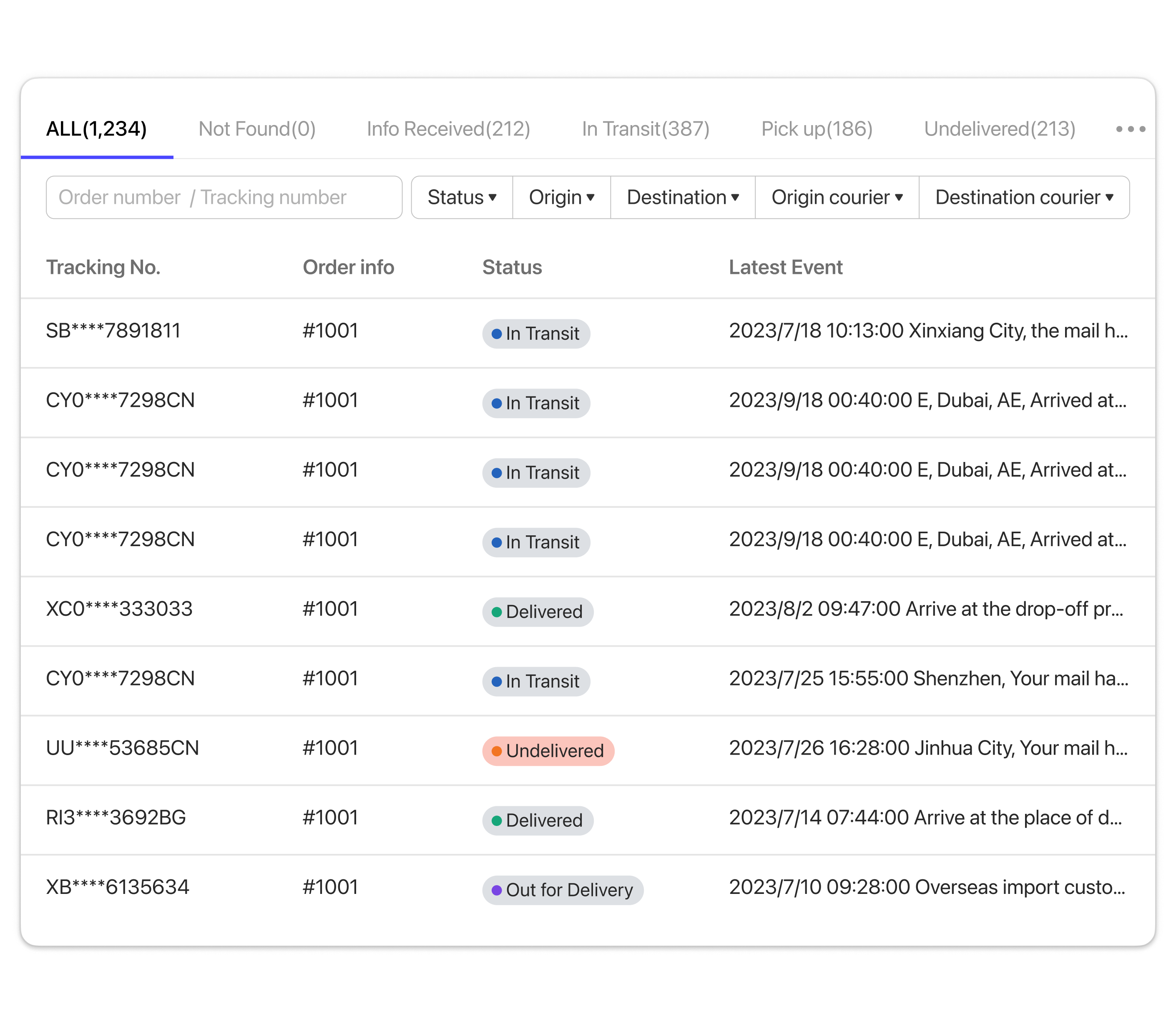 Customized Tracking Page
Let buyers lookup orders on your site.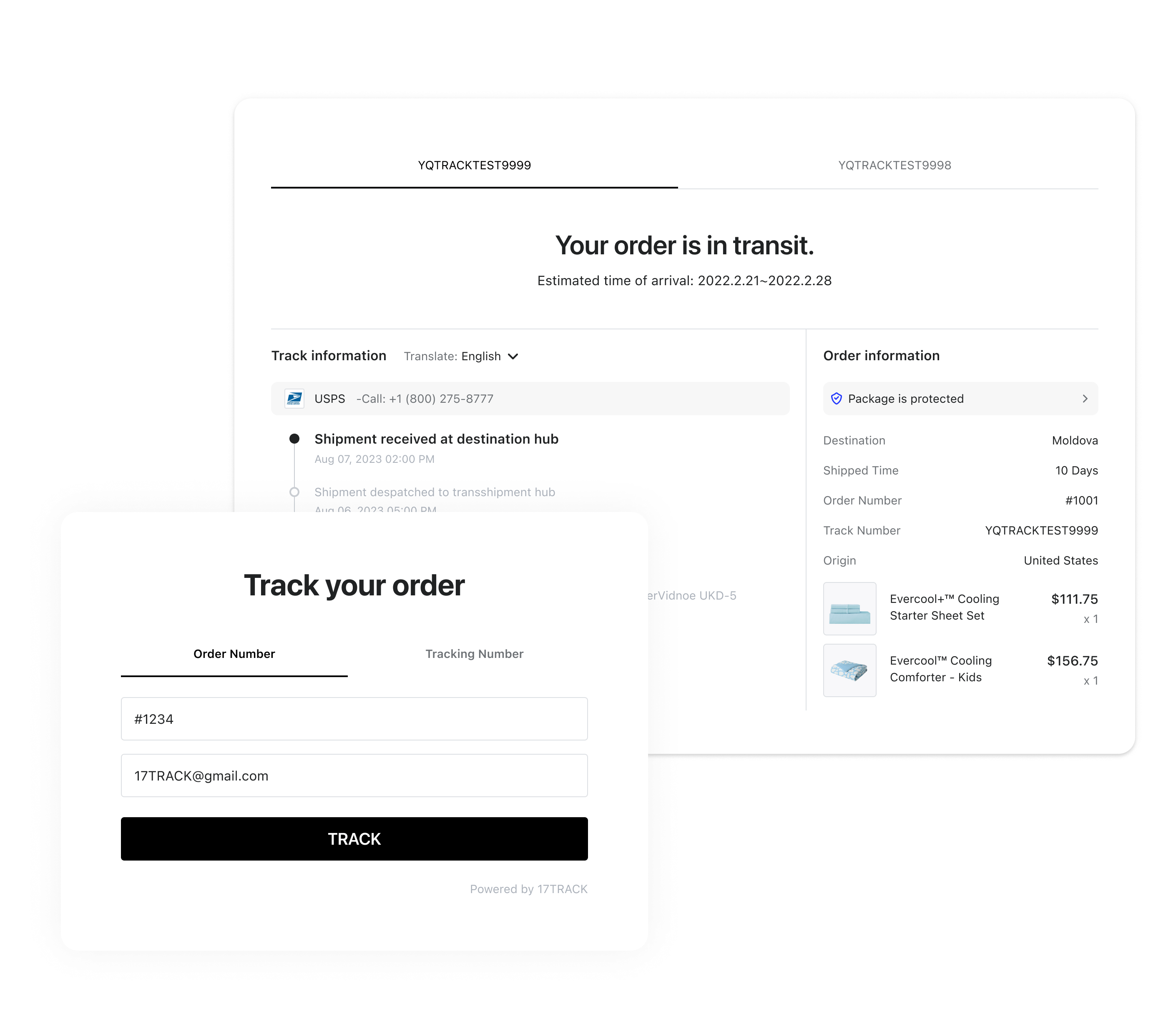 Data Analytics
Analyzing key metrics, shipping performance, and exception breakdowns provides insights to optimize logistics.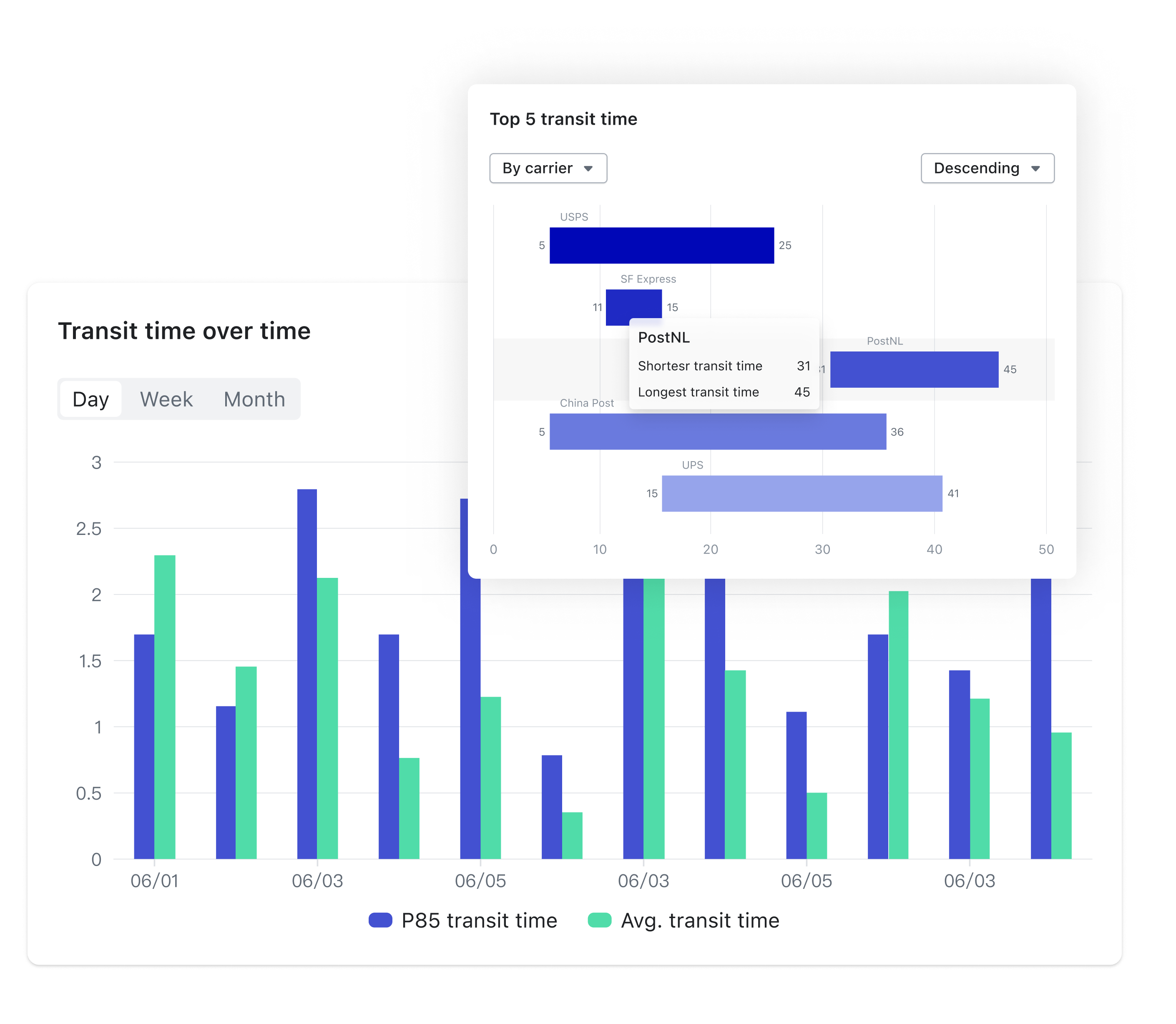 Green Shipping Protection
Protect orders against loss, damage and delay. 100% Customer funded.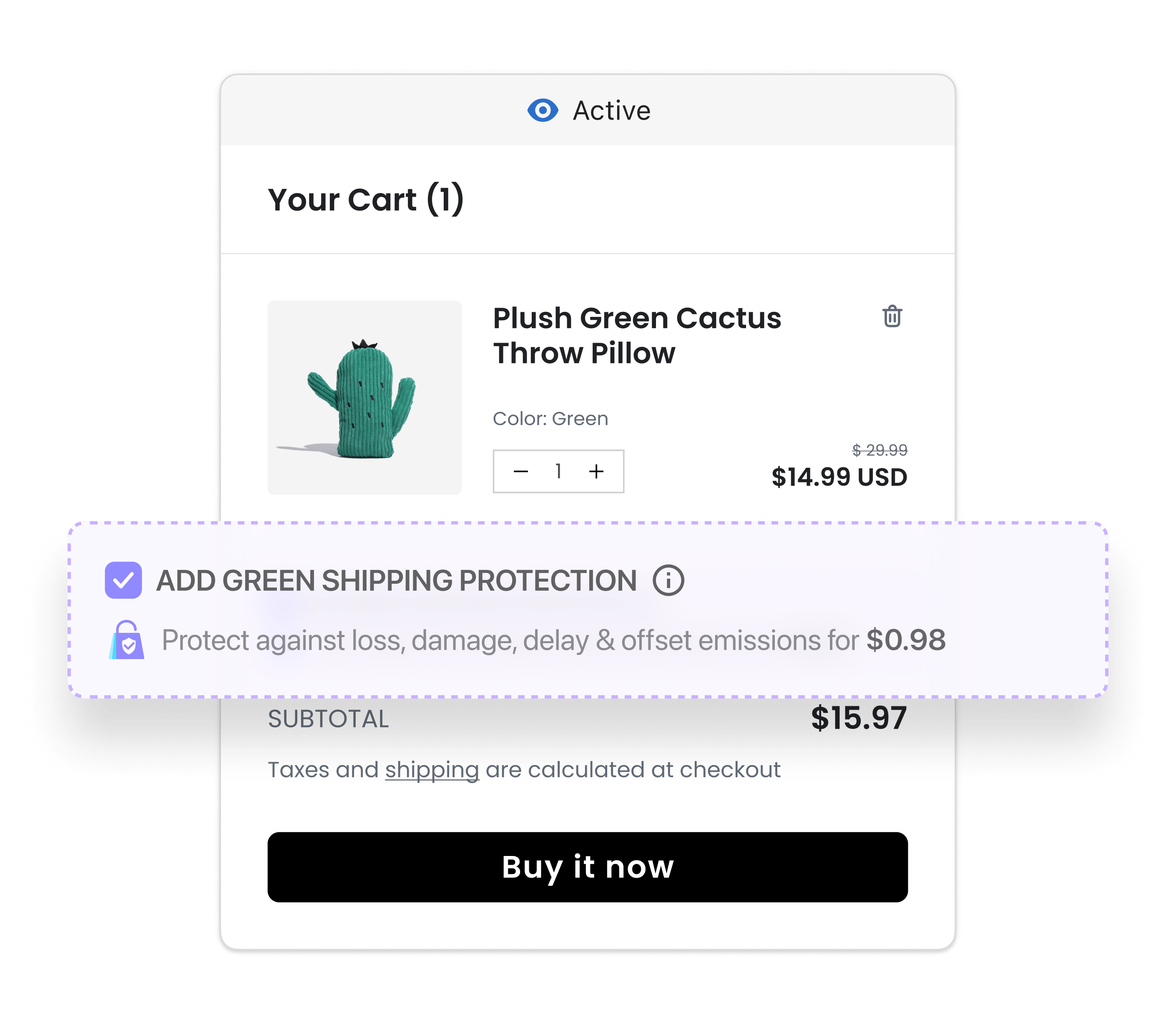 Reduce WISMO Tickets
Automatic tracking, always know the latest status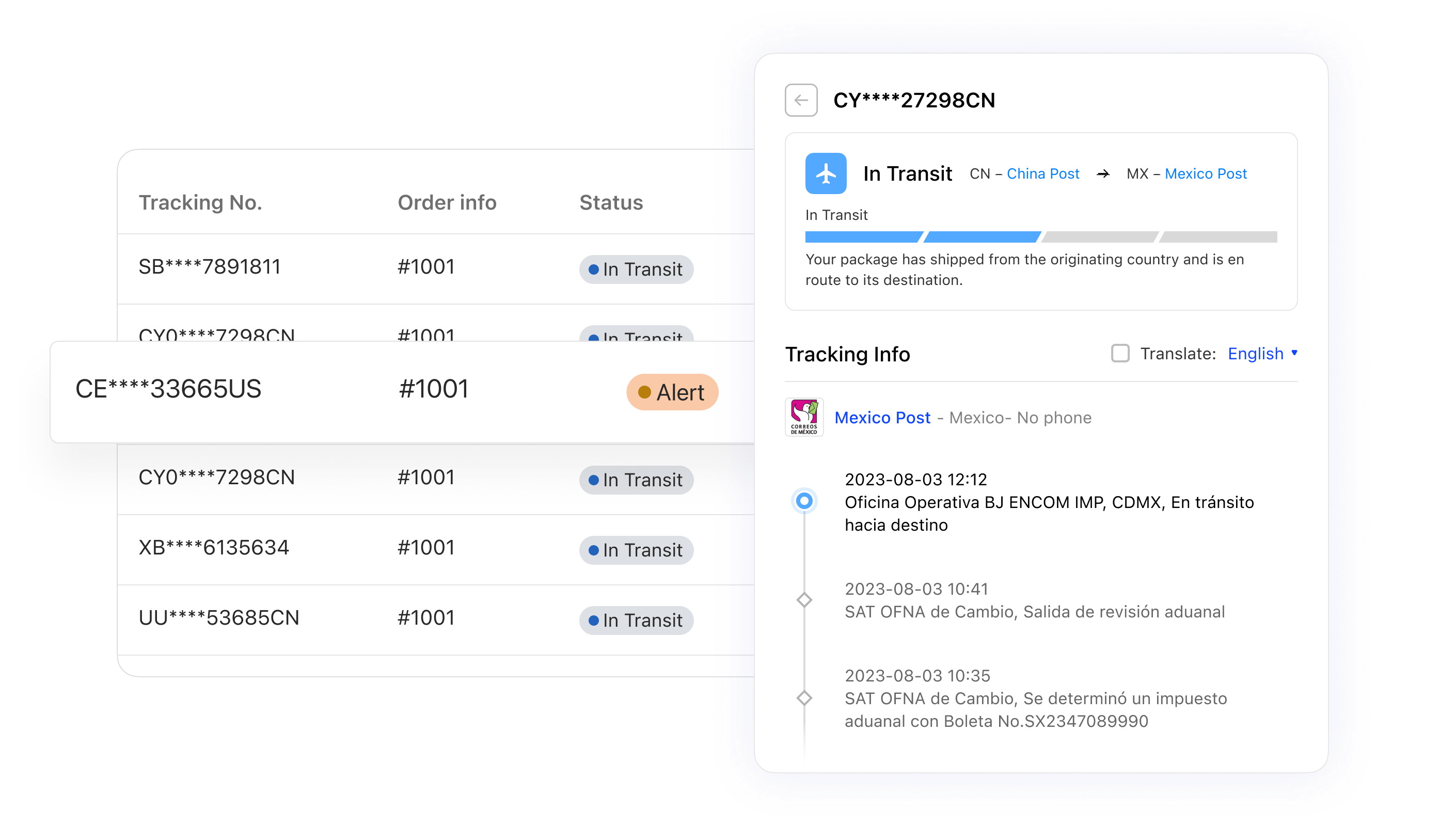 Shipment Management
Automated tracking
Push tracking info automatically into PayPal
Custom presentation of the tracking information
1,900+ carrier integrations
Exception Alerts
Get started
Customized Tracking Page
Estimated delivery date
Consumer-friendly mobile interface
Customize page designs
Hide shipping carriers, origins, etc.
AI-powered product recommendations
Get started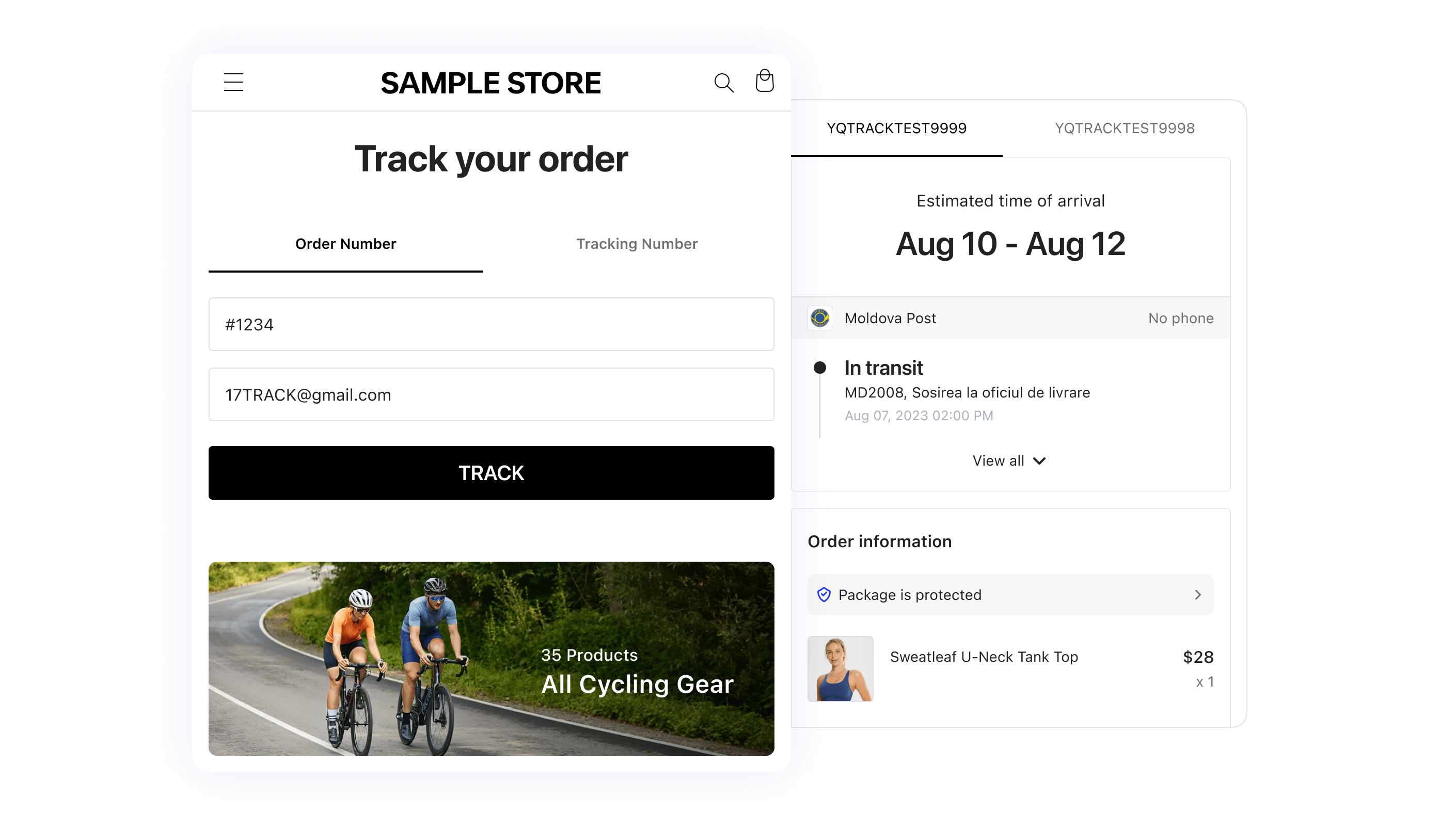 Data Analytics
Key metrics such as delivery rate and exception rate
Shipping performance across lanes and carriers
Exception breakdown analytics
Get started
Green Shipping Protection
Protect orders against loss, damage and delay
Claim processed in 48 hours on average
Shoppers to opt-in at checkout
Available in 8 regions including the United States, Canada, France, etc.
Get started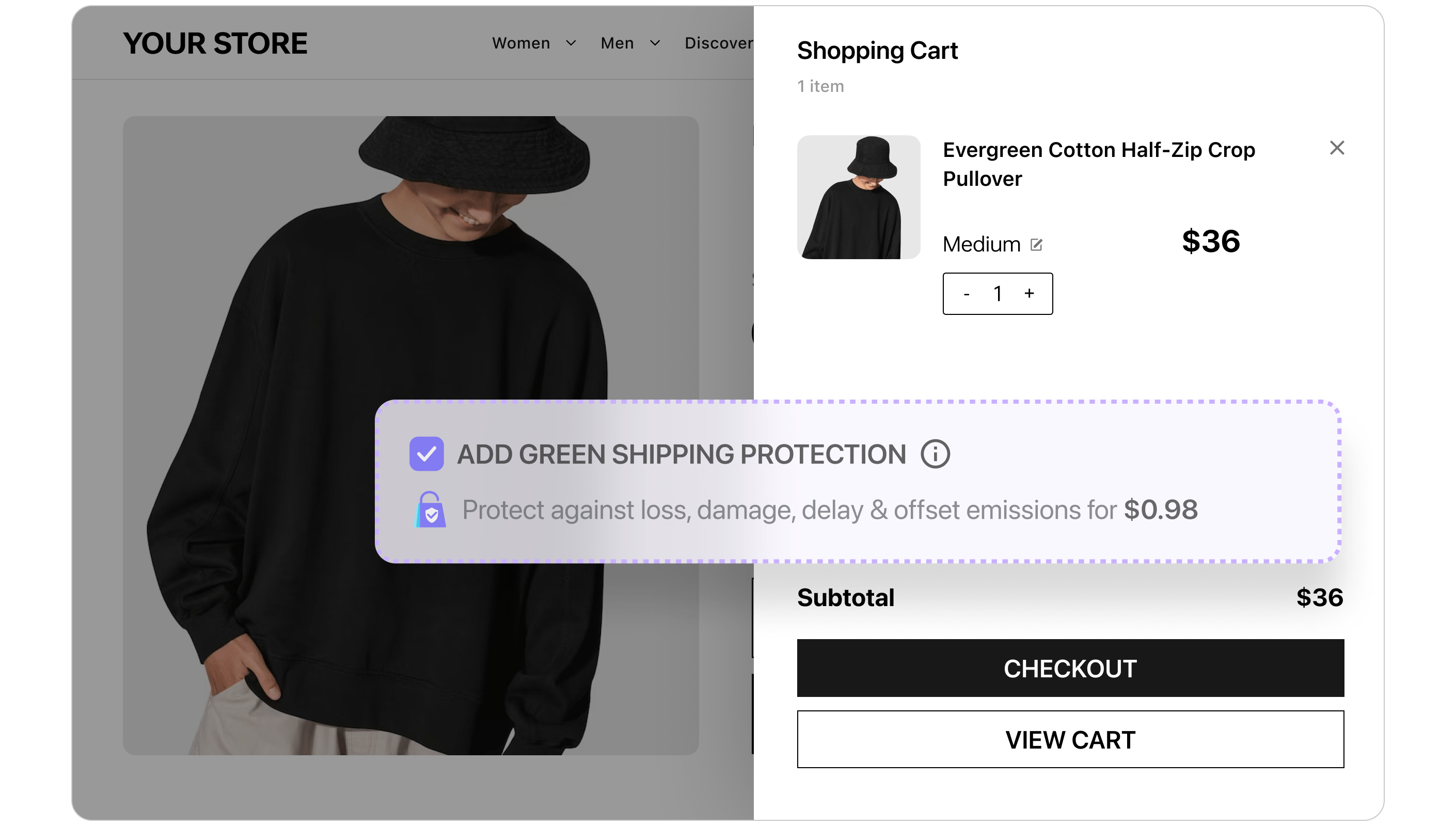 How 17TRACK customers boost revenue and retention
Wintolife
June 30, 2022
Great!!!Email notifications are sent for free after the upgrade. 17track will automatically send emails to my customers to tell them where the packages are, which is very worry-free.
AmazingOutlets
May 20, 2022
An application with all the features I need. Thanks.Shopify can work well with 17TRACK to solve my issues.
Firstbea
May 6, 2022
I have always used the 17TRACK webpage to track order tracking information, and now this plugin is very convenient for the operation of shopify stores. The perfect logistics track function avoids many customer complaints, and the automatic notification emails can also control customer expectations. The timeliness of the logistics information provided by 17 is also very guaranteed, and it is strongly recommended!
lspbaodan
April 2, 2022
This app's pricing structure is very nice for beginners, it's free till we reach certain orders. Not very intuitive to use though! I wish there was an idiot-proof tutorial for all beginners to learn how to use the app!
FUGOLEAR
April 15,2022
It's app is very helpful in tracking your orders. It simplifies the communication process with my clients. Now, my customers can access real-time updates if they want to know the status of their orders.
Flashwalk-eCom
Feb 17, 2022
This plugin can help track most of the express logistics information, such as USPS, UPS, DHL, DPD, TNT, especially the logistics that some foreign customers do not understand. With this plug-in, buyers can enter the tracking number to query with one click, which is convenient for buyers and sellers, and sellers do not need to spend a lot of manual labor to answer logistics questions, which solves a big trouble for us! Very recommended.
Build a branding after-sales experience , Winning Another Repurchase